FIRSTPOST.COM
Teenaa Kaur Pasricha on the making of her National Award-winning film 1984 – When the Sun Didn't Rise
April 25, 2018 14:14:40 ISTC
Mumbai-based filmmaker Teenaa Kaur Pasricha won this year's National Film Award for Best Investigative Film for her documentary, 1984 – When the Sun Didn't Rise. The documentary is a comprehensive account of the Sikh women in Delhi who survived the 1984 massacre, their emotions, and their continuing fight for justice. The filmmaker spoke to Firstpost about the film and her experiences of making it.
Do you have a personal connection to the 1984 massacre?
(During the time of the 1984 massacre) my uncle was travelling in Madhya Pradesh. He was pulled out of the train and his hair was cut. My mother told me this, and I realised that she was very angry with the entire state machinery. The stories that my mother told me were different from the ones I read in my textbooks. In my history books, Indira Gandhi was revered as a leader. I wondered why this gap in history existed. That is how the quest about '84 began.
When did you notice this gap in the historical record?
The stories about the 1984 massacre were always with me. This terminology — gap in history — came when I was struggling alone in Mumbai. I wondered that if I was leading a difficult life despite being educated, what were the women who survived the violence going through? What was their journey? How did they come to terms with it? So that was the common ground with them. I was researching the 1984 massacre when I realised that nothing has been done to document it properly. So I set about doing that in an impartial and balanced way. I feel that it was a grave injustice done by India, the biggest democracy in the world. The Sikhs are a minority and have contributed so much to the country — whether it is with the green revolution in Punjab, or the Sikh regiment in the Indian army. So I really felt that it is time for us to be shameful of what we have done in the past.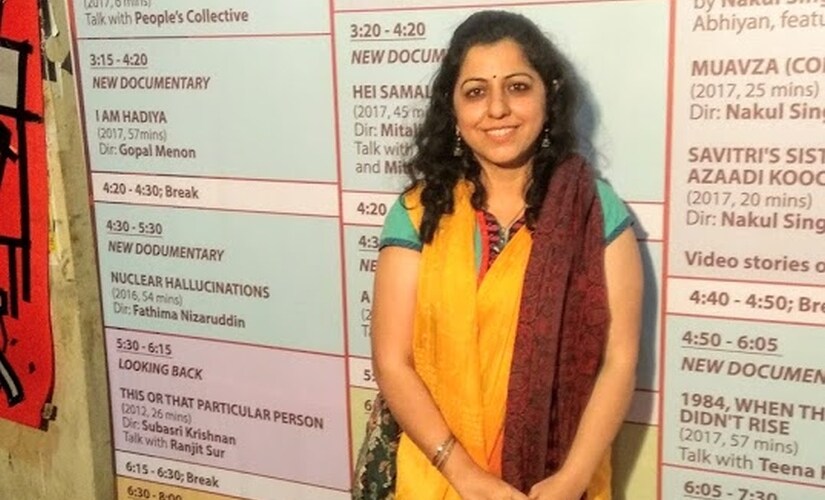 Would you say that there is still a sense of anger and despair in the massacre survivors?
I would say that there is a lot of suppressed anger. People feel very marginalised and wronged by India. On the human rights index, India is nowhere. We have no freedom of speech. These heinous acts of rape are still happening. No one is safe. While talking to the 1984 massacre survivors, I tried to explore how many of them are rape survivors. But they don't want to talk about it, because they feel that it is about honour and survival.
You also look into the impact of the massacre on the new generation. One of the things you touch upon is the drug crisis. Is there a link between 1984 and the drug crisis now?
Yes, it is very simple. When we have to make someone forget about their past and their history, we simply introduce drugs. On drugs, a person is numb and doesn't respond to any kind of stimulus. These are fiery young Sikh men who could have revolted, raised their voices against the kind of conditions that they were living in, the kind of marginalisation that they faced. But they didn't do any of that. They were introduced to drugs when they were really young. The drugs are available there in the nearest chemist shop. So why did the government not do anything about it?
Also among the people you interviewed for the film was Jagdish Tytler. What was that like?
I wanted to interview both Sajjan Kumar and Tytler, because they are accused of being the faces of 1984. Sajjan Kumar never responded. Jagdish Tytler took six months to agree. I decided to look at him as a human being and not bring any of my hate perspective into it, because it wouldn't serve any purpose. That helped me stay neutral in the interview.
Did you ever face any threats or intimidation when you were shooting the film?
I got a call from the drug mafia, and they asked me what I was doing in the colony and whether I was making a film about them or about drugs. I told them I was making a documentary on 1984. There were a lot of drug addicts that I was following and they got my number from someone. Also, when I was screening the film in November in Delhi, I got a call from CBI, and they asked me what I was doing. They thought that screening the film would give rise to violence. Four of them came and saw the film.
How many people did you speak with for the film? How much time did you spend in making it?
For filming, I must have spoken to 50-60 people at least, maybe more than that. The issue was that I couldn't really figure out how the pain of one person was different from another. Everyone had a story to share that was very intense. In the end I think it was my connection with each individual that helped me find the people to be featured in the film.
I started shooting in November 2011, and the edit was completed in January 2017. It was a considerable amount of time, but any documentary feature which is well-researched takes time. There are characters to be followed, for example.
Which film festivals have screened the film?
It has been shown in eight festivals, including Mumbai International Film Festival, People's Film Collective, Indian Documentary and Short Film Festival, and Jagran Film Festival. I had applied for some 100 film festivals. I got selected for only eight. It was heartbreaking for me because I felt that the film had a lot of potential, but maybe because of the nature of the film, many film festivals did not screen the film. But that is okay. It worked out nicely.
Has making this film changed what you felt about the massacre?
I think there is lesser angst in me now as somewhere the pain has decreased. I feel I have done my best for an issue that troubled me for long. I was so depressed when I was making the film because it was such a difficult and lonely path for me. I was on my own because I couldn't afford a lot of people for the project. I kept yearning to share my pain with the world, for the world to accept it, I was waiting to be heard.
I realised that instead of being a film-maker, I have to be a human being, to just listen to what they are saying. Keep listening till they relieve themselves of the pain. After two-three years I realised that after they spoke to me they became a little lighter, a bit calmer, and I became emotionally heavy. I was absorbing what they were saying. The only thing that helped me was my friends and the amazing community that I am a part of in Bombay.
There is much more compassion for people around me, and I think I have become a better human being.
What is your next project?
I have a feature film script on love, marriage and inner conflict of a couple. Then I have some short film scripts with me which I wrote when I was doing this documentary. Let us see what comes first.
Updated Date: Apr 25, 2018 14:14 PM
1984, When The Sun Didn't Rise review: Stirring documentary gives voice to the widows of anti-Sikh riots
Cinestaan Rating

Release Date: 31 Jan 2018 / 57min SONAL PANDYA
Mumbai, 06 Feb 2018 17:40 IST
The impassioned documentary highlights the director's quest to uncover the forgotten, broken lives of the widows of 1984.
1984, When The Sun Didn't Rise (1984, Jin Din Suraj Ugya Nahi) is documentary filmmaker Teenaa Kaur Pasrischa's worthy and significant attempt to record the voice of the real victims of the 1984 anti-Sikh riots – the families of those left behind.
After giving a background on the events that led up to the riots, mainly Operation Blue Star and the assassination of prime minister Indira Gandhi by her bodyguards, the film comes back to the present to find out what happened to the wives of the men killed by mobs. Pasricha travels to Widow Colony, Delhi to speak to some of the survivors, namely Kuldeep Kaur, Harbans Kaur and Meera Kaur.
Kuldeep's husband was dragged from his home and burnt alive by a mob, a few of them were neighbours. She is one of the few widows who has testified in the courts and consistently spoken out against the perpetrators, many of them politicians.
1984, When The Sun Didn't Rise also reminds us another appalling saga of the story, the ongoing fight for justice. Many of the accused were eventually acquitted or never formally charged. Pasricha also speaks to advocate HS Phoolka who adds context to the issue. The political involvement of those accused from the start meant that the victims have been denied their chance of a fair trial.
Former politician, Jagdish Tytler, one of the main accused, is interviewed for the documentary. He denies any involvement, and reads out an official report that, in fact, clearly indicates his involvement in the riots.
Harbans Kaur relays the events from 1984 and the impact it had on her young life. Suddenly widowed with a young five-year-old girl, she never saw the body of her late husband. For years, she explained, she kept a lookout thinking he could be the stranger she walked by on the road or a homeless man on the street.
Meera Kaur's son, Mohan, who has been in and out of rehab for drugs, mostly stays home. He is estranged from his wife and young son. This portion of the documentary is particularly eye-opening. As a whole generation of fathers were brutally murdered, a second generation of sons have grown up without guidance and direction.
By highlighting these stories, Pasricha gives viewers a small portion of the harrowing accounts the families have endured since 1984.
The 57-minute documentary is a personal journey for the filmmaker (her uncle was attacked during the riots), she speaks of the growing anger inside her, waiting for answers. While that it is not entirely possible, Pasricha feels by telling these women's stories, the process can begin. As she uncovers their buried pain, so do we.
1984, When The Sun Didn't Rise, which premiered at the Indian Documentary and Short Film Festival in Kerala (IDSFFK) in 2017, is an impassioned telling of an important part of our country's dark history, one that is little spoken of in the history books, but is brought alive by Pasricha's persistence to make these victims visible again.
1984, When The Sun Didn't Rise (1984, Jin Din Suraj Ugya Nahi) was screened in the National Competition category at the Mumbai International Film Festival on 31 January 2018.
SHETV Interview
Meet Teenaa Kaur Pasricha The Woman Behind '1984, When The Sun Didn't Rise'
Teenaa Kaur Pasricha has devoted her life to story-telling. She is an independent Director, Producer, and Screenwriter, having a vast range of experience in documentary genres from social justice to environmental, working with platforms such as Doordarshan, National Geographic, Fox History and Ministry of Information and Broadcasting. As an Independent filmmaker motivated to unearth the deadly violence that occurred in 1984, she created a documentary called '1984, When The Sun Didn't Rise.'
The assault and trauma experienced by her family members in 1984 motivated her to dig deeper into the aftermath of a forgotten generation of Sikh women living in Widows Colony, Delhi.
In an interview with SheThePeople.TV, Teena shares how she tracked the lives of the women and their families in the community over five years, learning about their way of life, the marginalisation they face at the hands of mainstream society and the coping mechanisms they developed as a result of it.
The documentary provides us with a counter-narrative to the killings of Sikh men in 1984. Through the audio-visual medium, she aims to command space for the narratives and perspectives of the real survivors of 1984; the women left behind, disenfranchised and marginalized.
In documenting the women's stories, she challenges the body of knowledge that has been created on the incidents of 1984, the justice system, and also, the nomenclature around the issue.
She takes issue with the fact that the violence in 1984 is often referred to as "riots", just implying the idea that it was a two-way conflict, rather what it really was; a pre-meditated and planned attack on a specific community who didn't have the means to retaliate and were killed on a mass scale as a result. Further, she demands the narrative be revised to officially be acknowledged as a genocide and impresses upon us the politicized nature of language and the power it has to validate experiences, events and even identities.
Pasricha goes on to assert that, "if there had been justice in 1984, this possibly, would not be the state of affairs today". Thus, explaining that the culture of injustice we see today is historically derived and in dire need of disruption.
Teenaa's film, 1984 won the National Award for Best Investigative documentary for both Direction and Production. It has been screened at film festivals globally and has been screened in 22 universities throughout the UK.
https://sabrangindia.in/article/maker-documentary-film-anti-sikh-massacre-receives-national-award-calls-it-victory-those
A searing look at the human cost of the 1984 anti-Sikh riots
R.K. RoshniTHIRUVANANTHAPURAM, JUNE 19, 2017 00:00 ISTUPDATED: JUNE 19, 2017 04:31 IST
Teenaa Kaur
A docu on the anti-Sikh riots recalls the traumatic experience that the victims underwent
At the beginning of 1984, When the Sun Didn't Rise , Teenaa Kaur says she inherited anger from her mother who has angry at Teenaa's uncle being dragged out of a train and his hair being cut in the Delhi riots of 1984. He lived, but the loss of his identity sent him into a depression.
When a grown-up Teenaa struggled to make a life in Mumbai, she could not but wonder how Sikh women who had lost their husbands and family in the Delhi riots picked up the pieces of their life. "Many were barely literate, their husbands dead, savings gone, and after all that trauma had to survive."
1984, When the Sun Didn't Rise was screened in the Long Documentary competition section at the 10th International Documentary and Short Film Festival of Kerala here on Sunday.
Teenaa was doing research about the violence against Sikhs following the assassination of Indira Gandhi and all that found expression in a feature film screenplay that didn't get made though for lack of takers.
She says that but for Amu , a film by Shonali Bose, and some amateur films made by members of the Sikh community and uploaded on YouTube, the 1984 incidents have been largely ignored in the visual format. "People had started forgetting about what happened. Only a few members of the Sikh community remembered it. It was painful, and it was convenient to forget it and move on."
Teenaa then started working on the documentary. "I wanted the incidents to be remembered in the history of India so that discrimination on the basis of identity does not happen again."
Getting the women to open up was not easy. "I wanted to connect with them, get them to trust me so that I could tell their stories."
Talking to the widows made her realise that they were very strong women who were capable of living with their memories and still take care of their families. She came to understand that the widows had only other widows for company. They had got material help, but rarely any empathy.
Teenaa also found herself being sucked into their accounts. "I found it difficult to separate myself from them. I had to pull myself out of their stories and become a filmmaker. This took a long time."
The film-maker reveals how it took almost two years to document one widow's story. "Every time, she talked about the 1984 incidents she would fall ill, and her family was against it. I would wait outside her house and wait for her to be ready – emotionally and mentally – to talk to me. And I could understand because it was disturbing even for me to hear their accounts."
These vivid and searing accounts form the core of Teenaa's documentary.
The documentary also dwells on the consequences of the violence, even on youth and young children who find it difficult to negotiate their memories of what happened. The film, which was made over five years, received the Busan International Film festival's Asian Network and Documentary Fund.
CINESTAAN INTERVIEW
Teenaa Kaur Pasricha: Idea is to reach the universe and tell a story of survival
In an interview, the filmmaker spoke about the long and difficult process of making 1984, When The Sun Didn't Rise (2017) on the widows of the anti-Sikh riots.
Mumbai – 18 Feb 2018 9:00 IST
Updated : 19 Feb 2018 11:31 IST
A documentary filmmaker goes through a myriad of emotions while making their film. On 1984, When The Sun Didn't Rise (1984, Jin Din Suraj Ugya Nahi) [2017], filmmaker Teenaa Kaur Pasricha's journey was more personal, growing out of an overall desire to understand the events of 1984. When the documentary premiered at the International Documentary and Short Film Festival of Kerala in June 2017, Pasricha had already been living with it since 2010.
Cinestaan.com spoke with Pasricha a day after the screening of her film in the National Competition category at the 15th Mumbai International Film Festival (MIFF) in January this year. There were several delegates at the festival who wanted to speak to the busy director about her film, but she made time to speak with us in a quiet corner of the media centre.
"I had just done my first documentary and I was reading about 1984, and I was very disturbed about what happened and then I thought, 'There are so many troubles in my life, what happened to those women who survived 30 years back? What is their journey?' I was very curious to know about them," she recalled about beginning the documentary.
1984, When The Sun Didn't Rise review: Stirring documentary gives voice to the widows of anti-Sikh riots
Pasricha wrote a feature film script around the subject, but found no takers. People suggested she work on lighter fare. However, she knew what she wanted to make. While in New York city for a film festival, she received a grant to begin work on 1984, When The Sun Didn't Rise. Back in India, she started on the research and arrived in Delhi, living at a gurdwara to save money and use later for production expenses.
"I didn't want to make the film very didactic so the process was to have a film which is cinematically interesting that it appeals to audiences. My fear was that, what if only the Sikhs like it? That is not the idea," she stated. The idea is to reach the universe and [tell] a story of survival and [show] violence that has happened to any kind of ethnic groups or communities. That's why I wanted to make a film. That's how I started following some of the people who are there in the film, and talking to them and understanding what was their journey like. Just being there. After a while, it just became observational."
While researching and speaking to the numerous women who live in Widows Colony, Pasricha realized how little documentation was there on the subject and how their voices had been neglected over the years.In the documentary, three women are featured — Kuldeep Kaur, Harbans Kaur and Meera Kaur. Pasricha spoke to so many others, but eventually included the moving stories of these widows in the film.
"Being a friend and a human being was so so important, [to] sit there and listen to them. I saw them so many times. Some of them said, 'Why don't you record us?' After they shared their experiences, they, in a way, settled down with their emotions a bit more," Pasricha said. The next time they met me, they were a little bit more freer. In some cases, people didn't want to remember. It was so traumatic for them. My intuition was something I was relying on, so wherever I felt I had a connect with the person I was talking to, I think that was my character. That was the person whose story I featured in the film."
After the film's screening, Pasricha asked for a moment of silence for the people who died in 1984. She also spoke of her own personal connection to 1984. Her maternal uncle was attacked during the anti-Sikh riots and growing up, she had heard many stories of the time.
During the interview, she spoke about processing her emotions to use to say something important via the film, remembering the difficult experience of around four-and-a-half years of working on the documentary. There were differences of working with the editor, and examining the footage in which the widows and survivors relived their stories was emotionally draining for her.
"There was a time in my life before the film when I had thought my life had ended and there is nothing good that I have to do in this world now. But then I said, 'Is there anything I can do, in which I find solace, that I'm contributing by my work and trying to say something that I really want to say?'," she said.
The documentary, especially the widows' stories, were the answer. Today, she is still in touch with the families featured in the film. Mohan Singh, son of Meera Kaur, is in drug rehab now, she reported. Pasricha also has plans to show the film to the families, but understands their reluctance to view it. "For them, it's a difficult emotion and experience," she explained.
The film has already won the best documentary feature by an emerging filmmaker at the DC Asia Pacific Film Festival in March 2017. Additionally, the film has been screened at several public places in the nation's capital, including schools and colleges.
Pasricha also revealed that 20 universities in UK will be screening the film. "There has to be recognition of this particular genocide as a massacre and also because I want to engage other people from other communities and fields into this kind of dialogue," she said.
Meanwhile, she also has another film, The Woods Are Calling (2017), playing at film festivals. The documentary is about a group of hunters [in Nagaland] who have given up hunting to save a bird called Blyth's Tragopan. Pasricha also plans to work on a feature film which she has already written.
"It's a very different kind of film. I like stories of anyone who doesn't have any representation, whether it is plants or trees, whether it is animals or in some cases, even women. This story is completely from a woman's perspective," she shared.
INDIAN EXPRESS – Thiruvanathapuram Edition, 2017